—
The Artistic Group Dryades en Plo and DA.GI.PO.LI presented the work Vortex on Saturday, March 26, at the Mouzaki Cinema Theater. A shocking performance [as characterized by spectators], to raise public awareness on the exclusion and the elimination of disability through active participation.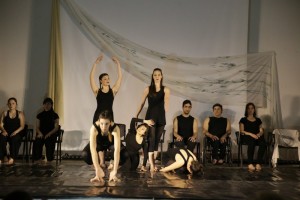 A few words about Vortex: Everything is shaking in an endless rhythm … The body, the inside material, the mind and their derivatives are pulled in a rotating vortex that is even stronger when countercurrents come together. A vortex in the air elevates you anarchically and dangerously and lands you sometimes abnormally and sometimes more smoothly. A vortex in the water sucks you into the bottom, and then it leaves, and if you have any breath left, you will come outside in the light again; anxieties, conflicts, battles, losses, love, joy swirl without ceasing in its insides. Airy thoughts, fluid thoughts follow its circular orbit and its persistently strong rhythm. The universe throughout the cycle of time and space, they struggle to reach zero and infinity … The vortex that instantly wipes out the present and sucks in it the past and the future. The body, the spirit before and after the vortex … fear or power?
The choreographies of the performance were accompanied by original music in live performance by Chrysostomos Troukis in his own musical production for the project.
The work in the form presented is the result of the artistic collaboration of the two groups, inspired by the choreographers Maria Karapanagioti (Dryades en Plo) and Giorgos Christakis (DA.GI.PO.LI).
The contributors
Poetry – Art:  Ioannis Troukis
Directed by:   Maria Karapanagioti
Performers:
Stavros Zafeiris    Eirini Mavromataki              Irida Tzava            Antonia Leivartzinou Ana Ziur
Dimitris Grintzos Giorgos Christakis
Efi Karanasiou     Nina Karapanagioti             Lila Varela            Maria Krana
Guest participation Sotiris Romanidis
Original Music:             Chrysostomos Troukis
The show moved and impressed spectators, among them the Mayor of Mouzaki, Mr. Kotsos, Mr. Stefanos Koutras, representative of the Ministry of Education, municipal councilors, rapporteurs, academic staff Mr. Gouridas, Psaltopoulou, Krasanakis, Varsamopoulou, and participants of the 5th Scientific Conference from all over Greece and many friends of Dance from Karditsa and Mouzaki, who generously gave their applause and congratulations to the dancers and other contributors. It is a unique artistic collaboration that gives our region the opportunity to spread the hand to the world of disability to give expression to our fellow human beings through the Art of Dance.
Dryades en Plo and the contributors of the show warmly thank the sponsors of the show, Hotel Mouzaki Palace, the Company Serifis – Wood, Furniture, and the Municipality of Mouzaki for granting us the room and the covering the technical needs of the show.
—