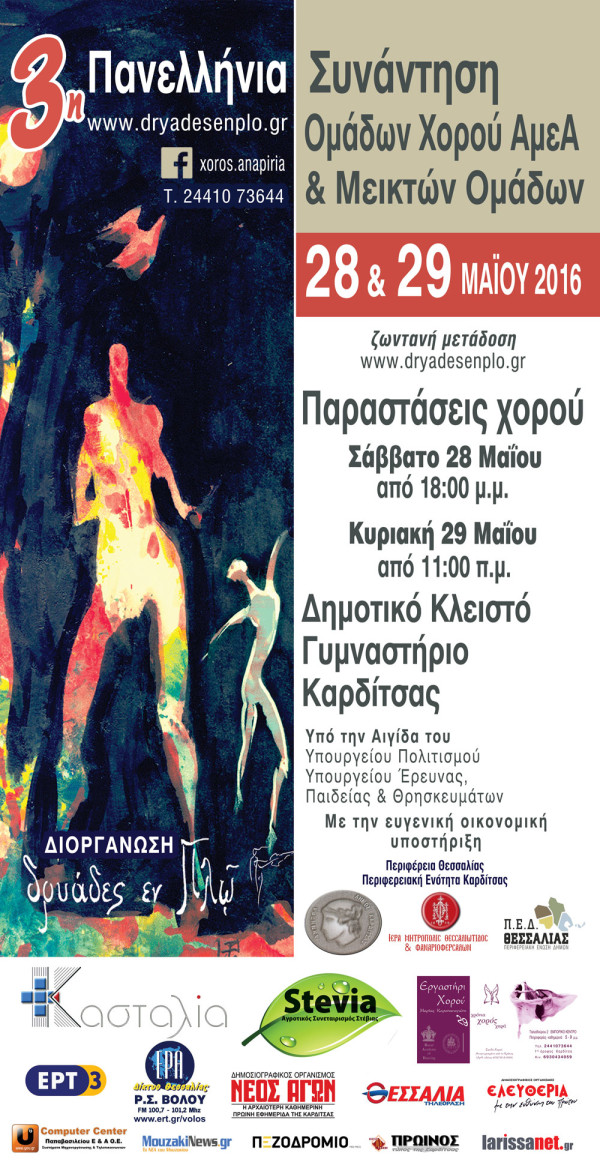 The Artistic Group "Dryades en Plo" organizes the 5th Interdisciplinary 2-Day Event on Art Therapies on "Art and Education: Education Methods through Arts for People with Dissabilities" in Mouzaki, on 26-27 March 2016. The 2-day event was performed in the framework of the preparation of the 3rd National Meeting of Dance Groups for People with Dissabilities (with any disability) & Joint Groups, which will be held on 28-29 May 2016 in Karditsa, following two successful previous editions, and is under the auspices of the Ministry of Culture & Tourism and under the auspices of the Ministry of Education, Reseach & Religious Affairs, the Region of Thessaly, Regional Unit of Karditsa, Municipality of Mouzaki, Greek Choreographers Body, Greek UNESCO division.
The 2-day event taking place on the Hotel Mouzaki Palace premises, comprises a theoretical and a practical part. Rapporteurs:
 Dimitris V. Goudaras, Professor of Psychopedagogy Univ. of Macedonia
 Elizana Polatou, Ass. Professor of the School of Physical Education and Sport Science of Thessaly
Dr. Dora Psaltopoulou – Kamini, Lecturer Department of Musical Studies – AUTh Music Psychotherapist PhD, MA CMT
Stelios Krasanakis, Psychiatrist – Dramatherapist, President of the Institute of Dramatherapy AION
Anastasia Varsamopoulou MSc., Psychologist – Psychotherapist Gestalt, Professor at Metropolitan College
Georgios Christakis, Choreographer – Dancer (Dance Competition DA.GI.PO.LI), Candidate Dr. Social Psychology
Maria Karapanagioti, Educator, Choreographer (Dance Group Dryades En Plo) – Dance Therapist
will present proposals related to the subject of the 2-day event and experiential workshops of drama therapy, music therapy, visual therapy and dance therapy will follow by the respective rapporteurs.
The event, the fifth in a series of similar events held in Karditsa, Thessaloniki and Lake Plastiras since 2013, is addressed at special educators, psychologists, nurses, dance teachers, trainers, animators, art therapists, professionals and special education students, structures for people with disabilities including mental health, as well as those interested in the subject. The aim is to provide both theoretical and practical knowledge and skills, which are essential for the education and support of people with disabilities through the arts.
We wholeheartedly thank the 2-day event's sponsors, Kastalia clinic, Stathis Ko Kissa Bookstore, Mouzaki Palace as well as ErtVolos and Mouzakinews for the media coverage.